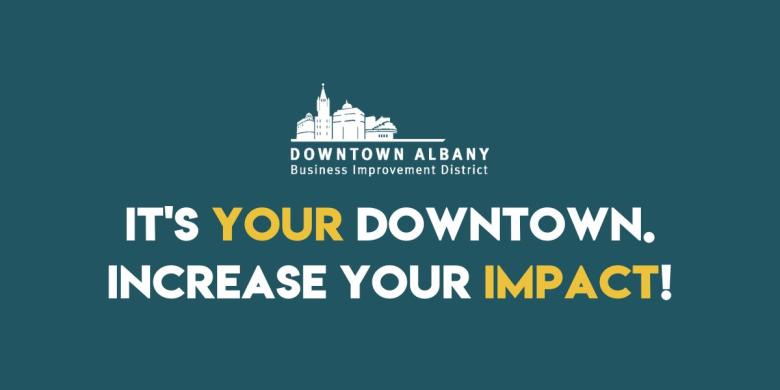 Call for BID Board nominations
It's your Downtown - increase your impact!
The Downtown Albany BID is seeking nominations for candidates to join the Board of Directors beginning June 2023 and serve three-year terms. As our District continues to rebound from the COVID-19 pandemic, joining the Board means you will help shape strategy, advocacy, priorities, and initiatives in Downtown at a critical time. We encourage you to nominate yourself and/or your colleagues to serve in the open positions outlined below:
Time commitment: The BID Board meets 8 times per year for (on average) 1-2 hours per meeting. Board members are also encouraged to serve on Economic Development, Clean & Safe, Special Events, or Marketing Committees, each of which meets quarterly for approximately 1 hour. 
 
Open Board positions (definitions per the BID's by-laws):
(2) Class A Property Owner Board positions - Owners of record of real property in the District as are registered with the City of Albany to receive real property tax bills for such real property located within the District, shall be Class A members of the Corporation, provided such persons have applied for membership in accordance with Section 1e hereof or have become owners of record on the rolls of the City of Albany by the September publication of such records by the City of Albany. Owners of properties wholly exempt from real property taxes are not eligible for membership, nor representation on the Board of Directors as Class A Property Owners, unless said ownership provides a payment in lieu of the property tax. 
If you are interested and would like to nominate yourself or other individuals, download the nomination form here or complete the form online here. Nominations must be received by 4:00 PM on March 17, 2023. Downloaded forms can be submitted:
via mail to Nominating Committee, Downtown Albany BID, 21 Lodge Street, Albany, NY 12207
via email to [email protected]
delivered in person to the BID office Monday-Friday 8:30 AM-5:00 PM.

PLEASE NOTE: In order to be eligible to serve on the BID Board, the nominee must own or represent the owner, or lease a property within the BID District that pays the BID's special assessment tax.