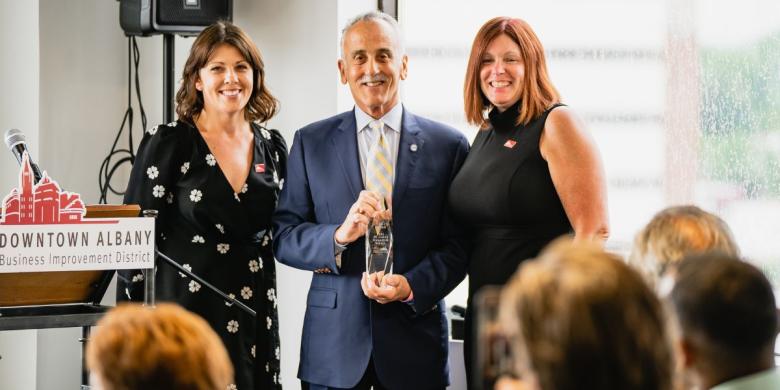 Carm Basile receives 2023 James M. DiNapoli Award
Carm Basile, CEO of Capital Region Transportation Authority (CDTA), was presented with the 2023 James M. DiNapoli Award at the Downtown Albany Business Improvement District's (BID) Annual Meeting on June 27, 2023. The event, which serves to provide a report on the past year's activities of the BID and state of the District, drew community members, Stakeholders, and elected officials. 
 
Created in 2013 in honor of founding member and inaugural Chairman of the Downtown Albany BID, the James M. DiNapoli Award is presented to an individual, organization, or business that exemplifies Mr. DiNapoli's spirit of partnership and community-building in shaping the direction of downtown Albany. 
 
CDTA has long been a critical mobility partner as the organization transports more than a million customers monthly throughout the Capital Region. With the addition of CDPHP Cycle!, FLEX On Demand, and its newest venture, DRIVE, an all-electric car share program, they continue to expand mobility options, making their services accessible and attractive for area residents and visitors. While CDTA was responsible for driving nearly 14 million passengers during 2022-23, it is their partnerships that help to drive the organization, Basile says. To that point, he directs attention to the collaboration with the Downtown Albany BID that allowed CDTA to assist locally owned and operated businesses with free, reliable transportation for their employees.  
 
Launched in Downtown in August 2022, the Universal Access Program provides free, unlimited access to CDTA bus transportation to employees at Downtown hospitality businesses hit hardest by COVID-19. Since its inception, 317 employees at 34 hotels, restaurants, retail, and retail-related businesses have utilized the program, resulting in over 50,000 total rides taken. Participating employers note that the program helps ease financial burdens for existing employees, and acts as a recruitment tool for attracting new talent.  
 
Basile has had a hand in bringing more than just passengers into the District. As Chair of the United Way of the Greater Capital Region, he worked to open The Blake Annex, a coworking space that focuses on bringing nonprofits together that has attracted 25 organizations and 145 employees to Downtown; as a Board member of the Sports Foundation of the Capital Region, he helped to attract the NCAA, which this March resulted in $6.7 million in direct business sales. Looking into the future of Downtown, which Basile calls "the centerpiece of the region," the community leader is part of the redevelopment of Liberty Park, including CDTA and the Albany Parking Authority having collaborated on a feasibility study to transform the existing Downtown bus station into a state-of-the-art transit center. 
 
CDTA CEO Carm Basile said: "It is extremely humbling to be mentioned in the same breath as Jim DiNapoli, a man who exemplifies what a visionary is. Jim understood the importance of developing and nurturing relationships, and that success is shared. I am honored to receive this award, but I have not done this work alone; I share this with CDTA employees, and the incredible individuals and organizations I've had the great pleasure of working with. My thanks to the BID for their partnership, and I look forward to continuing to work together for years to come." 
 
Downtown Albany BID Executive Director Georgette Steffens said: "While Carm will not call himself a visionary, he is in fact just that. He recognized long ago that transportation needed to be part of the development puzzle, not an afterthought. He has prioritized relationships that have resulted in CDTA being named 'Best Mid-Size Public Transportation System in North America,' and a substantial growth in services. To participating Downtown businesses, the benefit of the Universal Access Program cannot be understated, and Carm's vision for the future of our District would make Jim proud. We are thrilled to honor your efforts with the James M. DiNapoli Award." The award was presented to Basile by new BID Board President Elizabeth Young Jojo.
 
Previous James M. DiNapoli Award recipients include Tracy Metzger (2013), I. David Swawite (2014), Joseph Nicolla (2015), Nancy Zimpher (2016), Anders Tomson (2017), Gavin J. Donohue (2018), Dan Nolan (2019), Cornelius D. Murray, Esq. (2021), and Redburn Development Partners (2022).