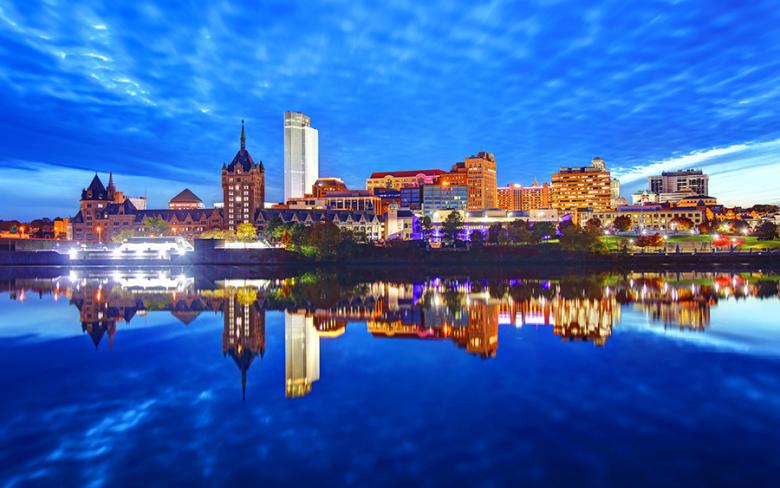 Downtown Albany Resiliency Forgivable Loan Program
As small businesses have experienced major economic impacts related to COVID-19, state-mandated restrictions, and winter weather, the Downtown Albany Business Improvement District (DABID) is making one-time, forgivable loans of up to $2,500 available for eligible small businesses. The program focuses on for-profit, small businesses with brick-and-mortar locations located within the BID boundaries in industries with the highest impact from the pandemic, including retail (storefront), restaurant/food industry, and personal care.  The BID boundary map can be found here.
Applications will be accepted starting January 25, 2021 through February 5, 2021. Awards will be based upon a combination of factors including program eligibility, availability of funds, and business type, with priority given to businesses that have experienced high decreases in revenue in 2020 over multiple quarters and are currently open and operational.
ELIGIBLE AMOUNT
Retail, retail-related, barbershops, hair salons, and personal care businesses may be eligible to receive a forgivable loan award of up to $1,250.
Counter service establishments such as sandwich shops, cafes, pizza shops and coffee shops may be eligible to receive a forgivable loan award of up to $1,250.
Full-service, sit-down restaurants may be eligible to receive a forgivable loan award of up to $2,500.
REQUIREMENTS
Businesses must meet all the following criteria:
Business must operate within the DABID boundaries.
Business must be a registered New York State business and open on or before September 1, 2019. If there are funds remaining, the BID will consider applications from businesses that opened after September 1, 2019.
Business must demonstrate having experienced a 25% or greater decline in revenue within a minimum of one quarter between March 16, 2020 and December 31, 2020 due to the COVID-19 pandemic compared to the same timeframe in 2019.  Priority will be given to businesses that have experienced significant revenue decreases over multiple quarters.
Business must have 25 employees or fewer at height of employment.
Business may have no more than $3 million in annual revenue.
Business must be engaged in activities that are legal under New York and federal law.
Business must be in good standing with local, state and federal taxing and licensing authorities.
Business must not currently be in bankruptcy or may not have filed bankruptcy in the past 18 months.
Franchises are NOT eligible.
ELIGIBLE USES OF FUNDS
Forgivable loans offered under the program may be used for the following:
Hard costs such as business mortgage, rent, commercial insurance, state and local permit fees
Improvements/equipment that will allow the business to comply with social distancing guidelines (e.g., plexiglass barriers/partitions, signage promoting social distancing/hygiene protocols)
Improvements/equipment to expand take-out/delivery operations.
Improvements that will allow the business to continue operating through the winter months (e.g., filtration system upgrades, food heaters to maintain temperature for to-go orders, outdoor patio heaters, weatherization upgrades, insulated delivery bags).
Technology upgrades (website, online sales and ordering, contactless payment, reservations systems, etc.).
Implementation of new marketing initiatives.
Interior alterations to comply with New York State's Reopening Guidelines (e.g., walk-up windows, plastic sneeze guards, better ventilation, high-efficiency air filters, etc.).
Personal Protective Equipment (PPE) and cleaning and disinfecting supplies.
Perishable items.
Other reasonable uses will be considered where the business can demonstrate that without the intervention of this forgivable loan program, their economic impacts will be compounded.
Documentation supporting the fixed cost must be provided. A minimum of one price quote for all other items must be submitted as well. 
Items fully funded through the BID's Downtown Albany Business Stabilization Grant, the Capitalize Albany's Small Business Adaption Program, the Albany County COVID-19 Small Business Grant Program and the Raising the NYS Bar Restaurant Recovery Program are not eligible expenses under this program. If you received partial funding through any of the programs listed above, you can apply for the remaining costs with supporting documentation.
If you received the BID's Downtown Albany Business Stabilization Grant you must have satisfied your loan forgiveness requirements prior to receiving funds through the Resiliency Forgivable Loan program. 
Applicant may not have any outstanding invoices with the BID.
HOW FUNDS WILL BE DISPERSED
Applications will be reviewed, and award decisions made no later than February 19, 2021.
Upon funding approval, the DABID will cut a check to the grant recipient for the full amount awarded by February 26, 2021.
LOAN FORGIVENESS
To have awarded funds forgiven, the recipient must submit receipts for all approved expenditures within two months (60 days) of grant award. 
If the receipts are not received within the two-month (60 days) timeframe, or an extension is not requested, the receipts do not add up to the awarded amount, or the receipts are for items not included in the budget approved in the original application, the funds would not be forgiven and must be paid back over a period of 18 months at 2% interest. 
Given the daily changes in how the virus is impacting communities, DABID's response and eligibility criteria may evolve accordingly.
HOW BUSINESSES APPLY FOR GRANT FUNDING
Deadline for the Downtown Albany Resiliency Forgivable Loan is 4:00 PM on Friday, February 5, 2021.  There are two ways a business can submit their application:
Download the application and mail in the completed form to Kate Medhus, Downtown Albany Business Improvement District, 21 Lodge Street, Albany NY 12207.  All applications must be postmarked no later than February 5, 2021.
Download the application and schedule a time with Kate Medhus at 518.465.2143 X110 or 

[email protected]

to drop off your application at the BID office between February 1-5, 2021.  The application must be received by 4:00 PM on February 5, 2021.
For questions, contact Kate Medhus, Program Coordinator at 518.465.2143 X110 or [email protected] .