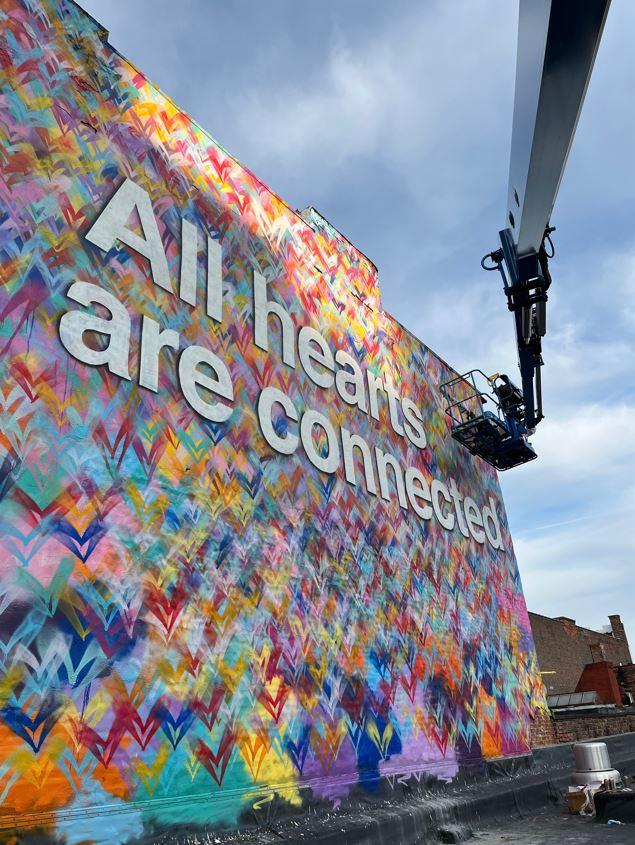 New Capital Walls mural completed
Downtown's public art has grown by more than 1,000-square-feet following the addition of a Capital Walls mural by artist Free Humanity completed on Sunday, October 24. The mural was funded as part of Albany's $10 million Downtown Revitalization Initiative (DRI) award, through which Albany Center Gallery received a $72,000 award for the Capital Walls mural project to add four murals.
The mural, "All Hearts Are Connected," encompasses 1,250-square-feet on 69 N Pearl Street and is the first Albany mural for the California-based multidisciplinary artist known for his colorful palette and multicolored hearts. Through all art created, Free Humanity's goal is "Taking back the Humanity stolen from our minds by social manipulation and planting seeds of positivity through art and consciousness."
The work marks the third of four murals funded through the DRI, with the first two completed in late 2020 and the final one expected to be completed in the Spring of 2022. The Albany Center Gallery, Albany Barn, and Downtown Albany Business Improvement District collaborated in development, management, and execution of the Capital Walls mural project. The $72,000 DRI award was administered by New York State Homes and Community Renewal. 
Read the full press release here
Photo: Albany Center Gallery