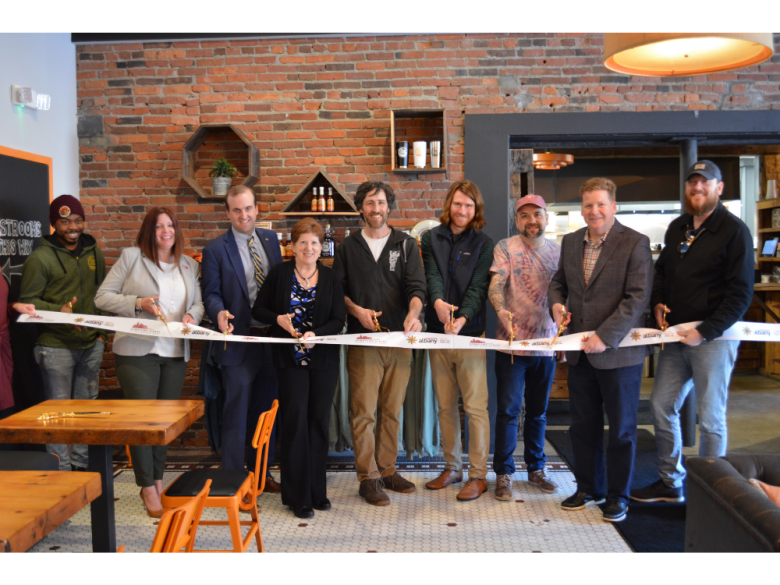 The Skinny Pancake opens first NY location in Downtown
The Skinny Pancake, a mission-driven eatery focused on serving local food, was welcomed to downtown Albany on March 10 with a ribbon cutting ceremony. Joining Downtown Albany BID Executive Director Georgette Steffens and Co-founder Benjy Adler to celebrate the opening were Mayor Kathy Sheehan, Albany County Senior Policy Analyst Lucas Rogers, Redburn Development Partners Principal Jeffrey Buell, and Capital Region Chamber President & CEO Mark Eagan.  
The company's first in New York location comes nearly 20 years after The Skinny Pancake started as a food truck that brothers Benjy and Jonny Adler constructed themselves. Opening inside the Kenmore Building, the catalyst for the Downtown location came following their participation in a local event in 2019, when Eagan recognized a natural pairing between the Vermont-based creperie and what Redburn Development envisioned for the historic Downtown property.  
With the owners sold on both the vision Buell shared for the 3,200-square-foot space and the building's development into a commercial and residential hub, the lease was signed, and construction began to build a restaurant where, Adler says, people would walk in and instantly feel comfortable. As a result of all the work, The Skinny Pancake customers being greeted by a dining area comprised of both tables and chairs along the walls and a lounge area in the center of the room. Accenting the space are paintings by local artists, a chandelier made from a nearly 100-year-old wagon wheel, and a cast iron stove emblazoned with "Happy Thought" from a Vermont farmhouse that doubles as a coffee bar. 
Crepes, salads, and burgers including vegetarian, vegan, and gluten free options are served at The Skinny Pancake, with the All Day Burrito and Everything But The Bagel Crepe launching with the opening of the new location. Favorite menu items for Downtown customers, Adler says, are the Johnny Crepe (maple BBQ pulled pork, maple BBQ sauce, caramelized onions, and Cabot cheddar in a cornmeal crepe) and The Cheesy Chicken Pesto (roasted chicken, house-made pesto, caramelized onions, VT mozzarella and Cabot cheddar). Customers can pair their meals with coffee, teas, sodas, beer, wine, and cocktails.  
The Skinny Pancake's expansion was about more than growing their footprint to include both the Green Mountain and Empire States. In Vermont, Adler says, the local food movement is increasingly becoming the standard and that to further their cause, The Skinny Pancake would need to expand outside the state to larger population centers. Customers at the Downtown location are tasting the flavors of local vendors that include Highland Hollow Farm, Halo Wholesale, Indian Ladder Farm, Stacks Espresso Bar, Yesfolk Tonics, and Wild Hill Maple.  
Their mission to build a safer, healthier, and more delicious foodshed while working with communities in ways that go beyond a transactional relationship generally associated with the restaurant industry has taken shape in many forms. The Skinny Pancake is committed to donating 1 percent of their revenue to organizations that directly benefit the local foodshed. On top of what's baked into the company's DNA, as a response to COVID-19 ShiftMeals was launched to help feed the many unemployed members of the community; since the program began it has grown to include, among other things, community collective garden initiatives.  
The Skinny Pancake located at 1 Steuben Street. Reservations are encouraged but not required, delivery is available via GrubHub. For more information, visit skinnypancake.com/locations/albany or follow them on Facebook at facebook.com/SkinnyPancakeAlbany and Instagram at instagram.com/skinnypancake.