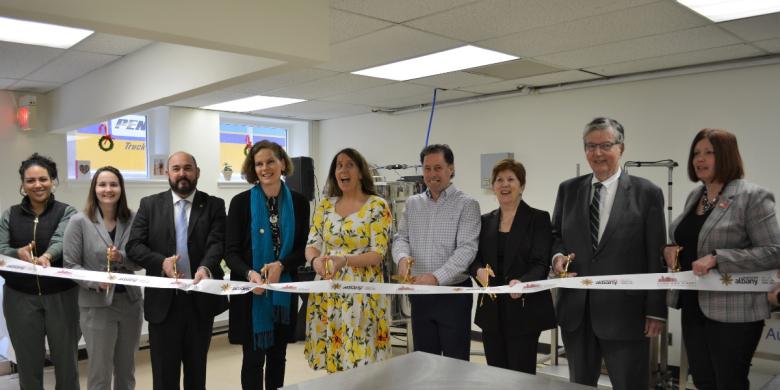 Tea steeped in family history, bottled in downtown Albany
Iced tea that's generations in the making is now being distributed from a downtown Albany location, as Nani's Iced Tea owner Maria Gallo has opened her own bottling facility. Gallo joined by Downtown Albany Business Improvement District Executive Director Georgette Steffens, Mayor Kathy Sheehan, Congressman Paul D. Tonko's Grant Coordinator Natalie Lincoln, Senator Neil Breslin, Assemblymember Patricia Fahy, Counsel to Albany County Executive Daniel P. McCoy Jeff Jamison, and family members and friends at a ribbon cutting ceremony held on February 16, 2023 to celebrate the new space at 99 Pine Street. 
 
Named for her grandmother, Maria Lomonaco Rosano ("Nani"), next to whom Gallo grew up making iced tea, the opening comes 10 years after she began bottling her hand-crafted recipes at Nelson Farms. After that location closed, and finding a reliable bottler became increasingly difficult, the entrepreneur began plans to build out her own facility. When Gallo first toured the 1,200-square-foot Pine Street space, she remembers it was still love at first sight; immediately, she said, she could picture where the equipment, glass bottles, and her desk would be placed. Just outside the "amazing location" her business now inhabits, Gallo was also instantly drawn to the vibe of being in the heart of the Downtown community, and the neighboring entrepreneurs with whom she would quickly develop friendships.  

Fast forward 2 years from that first tour and thanks to her determination and Business for Good funding her machinery, Gallo is currently bottling three flavors – Sweet Mint, Unsweetened, and Dolce Limone – with additional flavors in the works. The new Downtown location can produce 600 jars each hour, and in the coming weeks customers will be able to purchase the teas in Downtown at Miranda's Deli, located just a few blocks from the bottling facility, with regional locations including Delmar Marketplace, Honest Weight Food Co-op, The Grove Bistro, Bread Basket Bakery, Hattie's, Ragonese Import, Emack and Bolio's, Mr. Bumbles Café, Healthy Living, Hooked Seafood, Schenectady Trading Co., Famiglia's Deli, De Fazio's Import Store, PDT Market, and more. 

The space itself represents the tenacity it took for the entrepreneur to open her own bottling location, but what is equally notable to Gallo is that she is operating just minutes from where her grandparents owned their own small business on Grand Street. Nani's Iced Tea, Gallo said, represents the comforting memory of standing next to her grandmother and watching her make tea. While the recipes remain a family secret, Gallo is quick to let everyone know that her teas will never include chemicals or artificial sweeteners; she's not, she said, willing to jeopardize the integrity of the tea or what the company's name represents. 
For Nani's Iced Tea updates, follow the business on Facebook and Instagram.  
Read the full press release here | Watch the ribbon cutting ceremony here
Interested in opening your business in Downtown? See why #DowntownWorks for you here