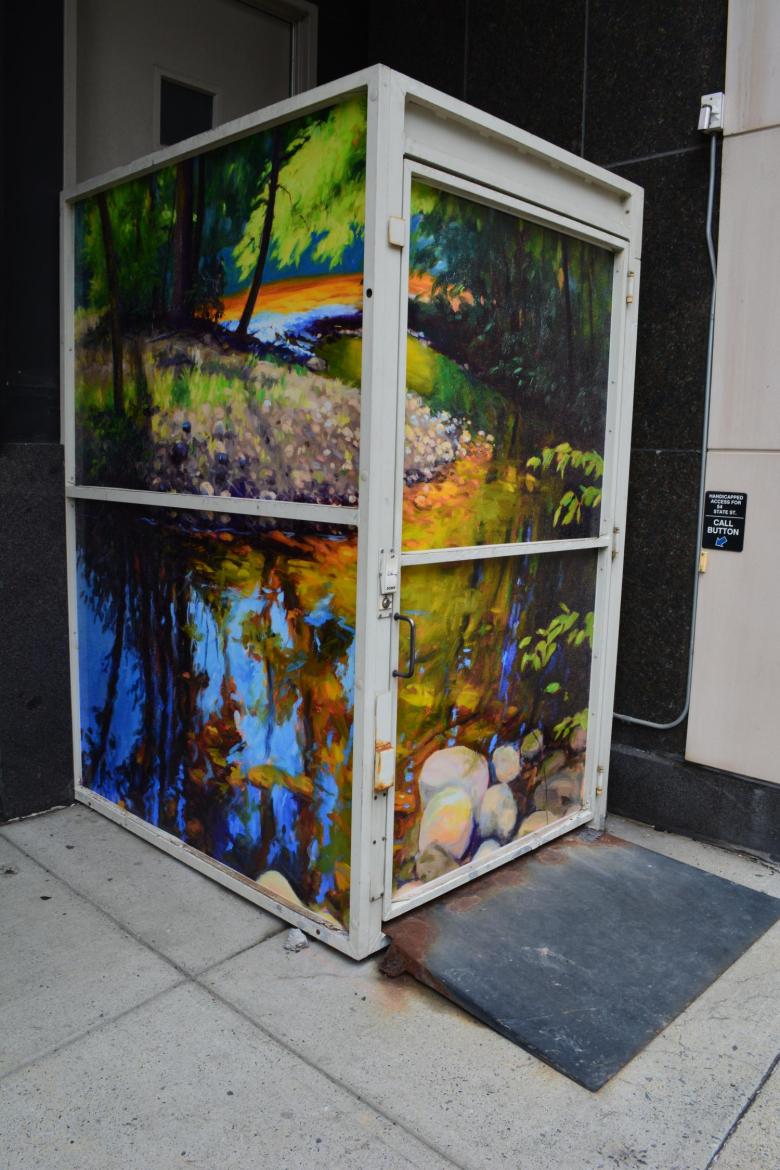 Open Gallery public art exhibit on display
Click here to download the Open Gallery a walking tour map.
The Downtown Albany Business Improvement District (BID) and Albany Center Gallery present the 2019 outdoor public Placemaking exhibit Open Gallery. The public art project activates downtown Albany's side streets and alleyways into a vibrant, colorful, outdoor gallery featuring the work of a diverse range of talented artists. The exhibition invites community members and visitors to explore new paths and find beauty in unexpected places. 


Existing artwork in various mediums was photographed in high resolution and printed on durable vinyl wraps by local printer One Day Signs. The wraps were then installed on 14 doors throughout Downtown , focused in and around the "Convention Center District" roughly defined as the area between the Albany Capital Center and the Times Union Center. Inspired by Lousville, Kentucky's highly successful Alley Gallery program, Open Gallery creatively reframes underutilized and overlooked spaces through the use of artwork. 


The artists participating in the project are:
Pilar Arthur-Snead
Wayne Duffy
Arzu Fallahi
Jenny Hutchinson
Richard Lovrich
Jamel Mosely
Adriano Rodrigues
Tom Roland
Jae Schalekamp
Mike Schinnerer
Terry Slade
Leo Valenchis
Takeyce Walter
In 2005, the outdoor Placemaking program (formerly "Sculpture in the Streets") was established to connect Downtown employees, residents and visitors with the places they share by reinventing public spaces with free, outdoor artwork. From regional creators to world renowned artists like Seward Johnson and George Rickey, the exhibits have attracted thousands annually. Past projects included the popular Nipper the Dog-inspired Downtown is Pawsome program, the installation of customized pianos as part of Luke Jerram's internationally touring Play Me, I'm Yours series in 2014 and giant Dutch clogs celebrating Albany's history in 2012, all enhanced by the Capital Region's local art community. 


​Open Gallery is supported in part by the Fairgame for the Theater Arts grant, as well as by the Amplify Albany Grant Program, a program made possible by the City of Albany Capital Resource Corporation and Capitalize Albany Corporation. The project is sponsored by the Albany Parking Authority, Gordon Companies, Omni Development Company, Inc., and the Renaissance Albany Hotel.