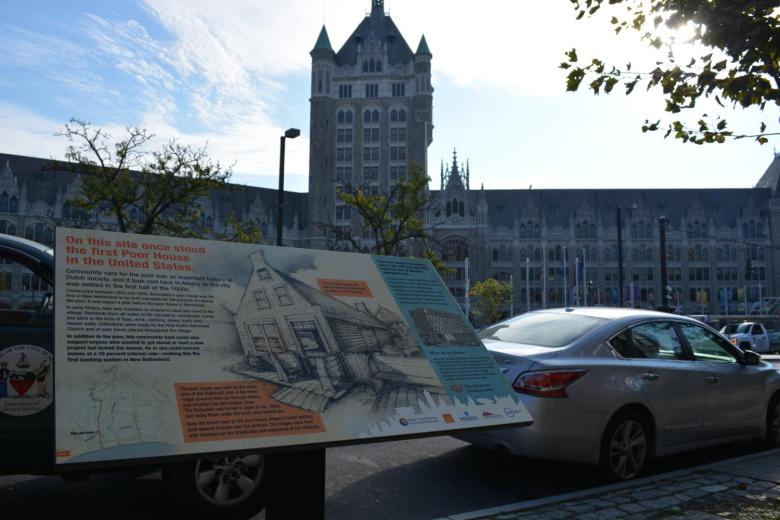 Signs of Greatness: Albany Stories Panels Now Up
Signs of Greatness: Albany Stories highlights unique points of interest in downtown Albany, many of which until now have been little known to the public. This exhibit of 12 interpretive permanently installed panels tells stories of Albany's settlement and development, trade and industry, and landmark social innovation, all wrought in our historic streetscapes and noteworthy buildings over the past 400 years.
The longest continuously chartered city in the United States (1686), Albany's existence as a community reaches back even deeper into the past to when today's Capital City was the point of contact between the region's Native peoples and the Dutch adventurers who first came here in 1609. Walk along the streets that were once the main trading paths between the region's Native peoples and Dutch settlers, uncover the unprecedented prosperity of enterprise during the Industrial Revolution, and marvel at the grand structures designed by some of America's most admired architects. For 400 years, Albany has thrived and endured on the west bank of the stories Hudson River.
Along the way, we hope you fall in love with our historic city and share your discoveries with us by tagging @AlbanyBID or #downtownalbany!
The stories in the Signs of Greatness panels could not have been told without the help of world-class historians right here in our midst. Several experts enthusiastically shared their knowledge and the fine details that bring Albany's past to life. In addition, the Signs of Greatness were made possible by our generous sponsors: Columbia Development, M&T Bank, and the Palace Theatre.
To download the map, click here.