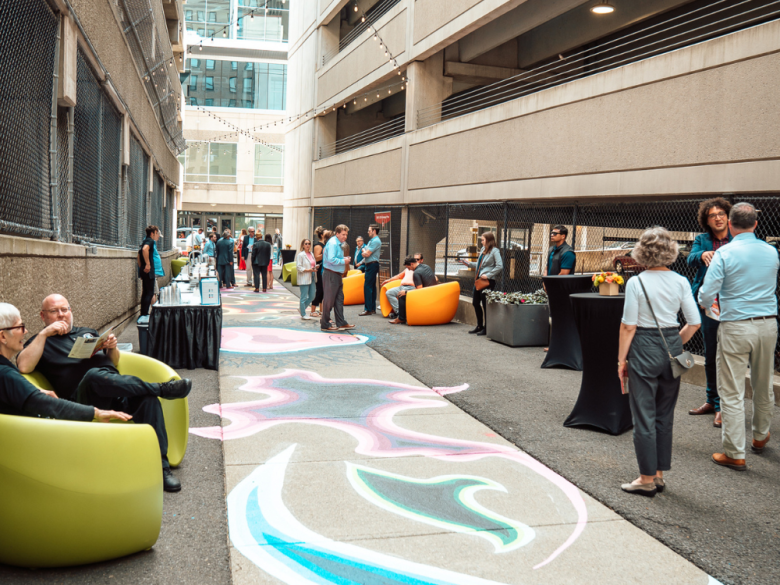 William Street
Completed in 2022, investment by the Downtown Albany Business Improvement District added light and color to the William Street connective corridor. Updates to William Street - located one block west of S Pearl Street between Beaver & Howard Streets, and adjacent to the MVP Arena - include new overhead lighting, colorful street furniture, and an expansive 150-foot-long sidewalk mural by local artist Eugene O'Neill. With the addition of street furniture, the space also acts as an extended patio for nearby restaurants as patrons can enjoy a wide variety of take-out options in a comfortable seat on William Street.
Entitled "Meet Me in the Middle", O'Neill's artwork is intended to provide a narrative journey to connect heart and spirit. These colorful portals are a notion to dig deeper beyond the surface, stepping beyond the shadowed doubt of impossible thoughts and welcoming a metamorphosis of changes designed to clear a path to a breakthrough moment. O'Neill is an art educator and one of the founding partners of the Amplified Voices Mural Project, a program that focuses on amplifying the voices, experiences, and expression of BIPOC youth through art. In addition to his extensive resume of mural work and educational programming, his company Made in Truth Clothing has been designing, screen printing and embroidering apparel for businesses and entrepreneurs since 2012. For more information and to see his work, follow him on Instagram and Facebook. 
If you are interested in hosting your own event at William Street, contact the Albany City Clerk's office at 518.434.5090 or file a Special Event Application online here.