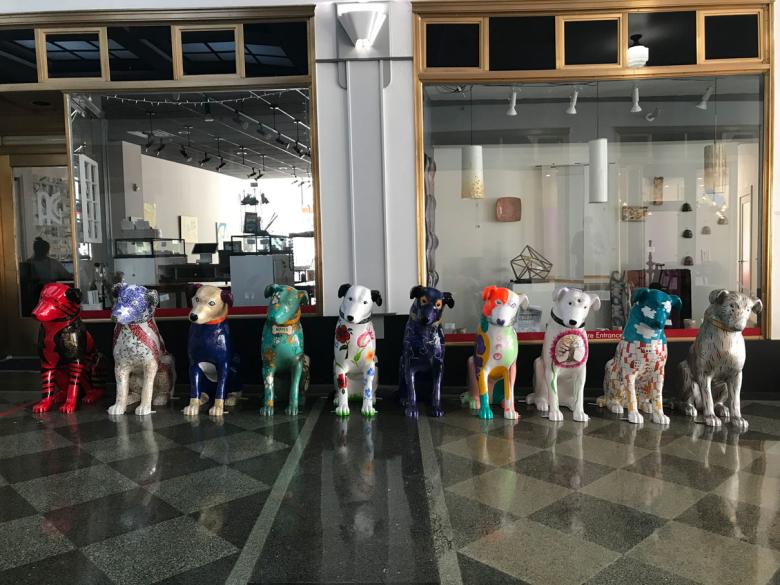 Downtown is Pawsome
The 2019-20 Downtown is Pawsome public art installation has concluded. While some of the sculptures have now found their "fur-ever" homes, a number of the pieces will remain in publicly accessible Downtown locations. The sculptures still on display are in the following locations: 
View of Google map of the current sculpture locations and other public art projects here. 
The BID debuted an initial run of 20 Downtown is Pawsome sculptures in the summer of 2017. The Nipper image resonated strongly with both artists and the public; nearly 90 applications were received for the project's open call for artists, and the sculptures quickly became local attractions and popular selfie spots for residents and visitors alike. Fifteen of the pieces were auctioned at the end of the initial installation in September 2018, resulting in more than $60,000 raised to benefit future public art projects, the artists, and the Mohawk Hudson Humane Society. The homes these one-of-a-kind statues went to included RCA Records, Mayor Kathy Sheehan, and the family of the late Harris Sanders, the Capital Region architect that brought the iconic Nipper to the Albany skyline more than 60 years ago.
The 2019 Downtown is Pawsome exhibit is sponsored by Discover Albany, Jim & Lena Hart, New York Business Development Corporation, The Olde English Pub & Pantry, ParkAlbany, Redburn Development, Renaissance Albany Hotel, and an anonymous sponsor. Curatorial support for the project provided by Albany Center Gallery. Special thanks to the City of Albany and Quail Auto Sales. A portion of proceeds from this project will benefit Albany Center Gallery. 
About the Downtown Albany BID's Placemaking program:
In 2005, the outdoor Placemaking program (formerly "Sculpture in the Streets") was established to connect Downtown employees, residents and visitors with the places they share by reinventing public spaces with various art forms. From regional creators to world renowned artists like Seward Johnson and George Rickey, the exhibits have attracted thousands annually. Similar past projects included the installation of customized pianos as part of Luke Jerram's internationally touring Play Me, I'm Yours series in 2014 and giant Dutch clogs celebrating Albany's history in 2012, all enhanced by the Capital Region's local art community.