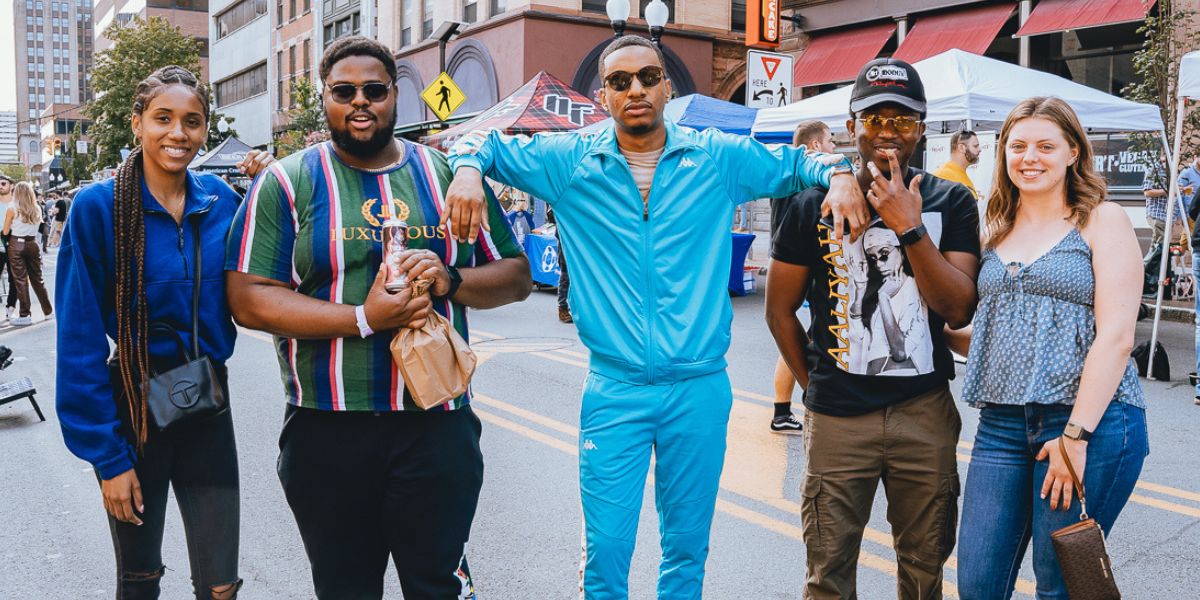 We are Downtown:
#AlbToTheCore 
Downtown Albany is at the heart of our Capital City, serving as the hub that geographically connects the region, and while we are the Central Business District and seat of state government, we are also so much more. A fast-growing neighborhood, we've quickly amassed 1,000 residential units, and as the region's entertainment center we're home to an average of 140+ events each month thanks to our world-class venues. 
We invite you to explore our historic streets, where Central Business District and Central Social District converge to create an exceptional urban community, and experience for yourself how we're at the center of it all. Already feel #AlbToTheCore? Apply to be a brand ambassador here!
 
The Core of Business Activity 
Our central location and excellent regional connectivity make us the epicenter of economic activity in the Capital District. Home to four times the office space of other Capital Region Downtowns, in downtown Albany you'll find a dynamic hub of commerce, where innovation meets tradition, and where startups, established enterprises, and government institutions thrive side by side. No need to take our word for it though; Downtown is represented 70+ times in the Albany Business Review's 2022-23 Book of Lists and you can read why #DowntownWorks for companies that call us home here. 
Whether you're a seasoned firm or just beginning, downtown Albany offers the perfect environment to realize your ambitions with an incredible office spaces from Class A to co-working, and a talent pool to match. Albany is home to a highly skilled workforce as ranked by WalletHub, and is one of the biggest attractors of greater New York City workers according to U.S. Census data. Ready to explore your options? Check out available spaces and properties in Downtown here. 

"We looked all over the place within reason. Office parks, downtowns, multiple counties. This was the first space we looked at, and it ended up being the one we went with. It's very conducive to team work, and there's an energy you just don't get in the suburbs." ~Upside Collective President Brendan Casey
 
Albany's Newest Neighborhood 
While Downtown is steeped in history, it is also the city's fastest-growing neighborhood. In 2023, Albany was named the best place to live in New York, #17 overall in the country, and #7 place in the U.S. to raise a family by U.S. News & World Report, and it's easy to see why.  
Living in Downtown means you're within steps of the Hudson River, 100+ restaurants, shops, and personal care businesses, a massive public art collection including 25 public art murals and Nipper-inspired sculptures, and six entertainment destinations.  
More than just those destinations – Downtown is helping to make connections. Our residents love their city that comes with a small-town, community feel, and that they run into their neighbors while grabbing coffee or dropping their kids off at school, at the Olde English Downtown Dog Park, and at events including free outdoor concerts, movie nights, and yoga mornings. Sound like your kind of vibe? Learn more about joining the neighborhood here. 

"To me, there's nothing better than being able to step out of my front door and in minutes be at a great bar/restaurant, cafe, entertainment venue, shop, or bike trail - living in downtown Albany means I have all of that right at my fingertips. I have found this neighborhood welcoming and friendly, providing a real sense of community."  ~Downtown resident Amanda R.
Rich in History, Focused on the Future 
Here in downtown Albany, we cherish our storied past, reflected in our historic architecture and cultural sites. That rich history informs our innovation and drives our future. At the heart of our capital, Downtown stands as a testament to the past, present, and future of our region.  
 
Explore our historic streets, marvel at our iconic landmarks, and immerse yourself in a living museum of architecture. But don't forget to look forward, too, as downtown Albany buzzes with a spirit of progress. Public and private investment, modern amenities, expansive public art, and growing residential are driving our city forward. 
We invite you to immerse yourself in the locally-owned businesses, public art, and entertainment destinations you can only experience here, and discover for yourself how Downtown is Albany to the Core.